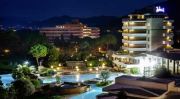 Accommodation is available at the venue, the Radisson Blu Resort complex in Galzignano Terme, to the 4-star Splendid Hotel. We have reserved the entire Splendid Hotel between 7th-10th July (three nights). Accommodation must be book and pay upon registration by the online booking system. Book now 
All rooms offer:
private bathroom
air conditioning
free wi-fi access
television with satellite connection
For the participants there are also many communal spaces both indoor and outdoor the hotel: large garden (350.000 mq), bars and cafeterias, etc. Moreover, participants can use swimming pools and thermal baths, for free; a SPA, a golf course, the tennis courts, with payment. A shopping area is also available.
Extra nights 
Rooms might be also available for only two extra nights (before July 7th or after July 9th) at an agreed price.
In this case, the partecipant has first to register and pay through the online booking system and after contacting the hotel directly to book extra nights.
TEL. +39 049 9195665
FAX. +39 049 9195250
This email address is being protected from spambots. You need JavaScript enabled to view it.
Type of room Price per room per night
Single room €75,00
Double room €90,00
Three bed room €105,00 
The rate includes: overnight stay, breakfast, free wi-fi. The rate does not include visitor tax € 1,00 pers/day